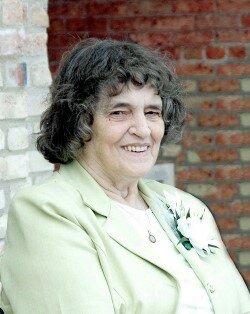 Obituary of Attie Koopman
Please share a memory of Attie to include in a keepsake book for family and friends.
"Surely I have calmed and quieted my soul…" Psalm 131:2
On Wednesday, January 25, 2023, ARENTJE (ATTIE) ANTJE KOOPMAN (Roffel) passed peacefully into eternal glory in her 84th year. Our deep loss is her incredible gain, as she is now at eternal rest with her Saviour. Mom is free from the sufferings of this life, and is before the Throne of God worshiping in perfection with a clear mind and sinless heart. We praise God for His amazing grace and steadfast love! We will miss her dearly but are filled with great joy for Mom.
Mom was born in the Netherlands on May 19, 1939. She immigrated to Canada at a young age, and married Meindert Koopman on April 14, 1961. They resided in the Chatham area for most of their married life before moving to St. Thomas in 2009. They attended the Free Reformed Churches in both Chatham and St. Thomas. In 2015, Mom took up residence at Valleyview Nursing Home.
Attie was predeceased by her dear husband, Meindert Koopman. They were married 54 years.
She leaves behind her six children and their spouses, grandchildren and great-grandchildren:
Jim & Audrey Koopman - Peter & Andrea (Liam, Beckham), Sam, Naomi, Claire
John & Sue Koopman - Scott & Jen (Jenna-Grace, Mayelle, Owen†, LilaJoy, IvyFaith, EmmaRose), Ben, Josh & Naomi (Amelia, Florence), Erin & Thomas, Caleb
Cindy & James VanderHeide - Brianna & Jacob (Tali, Sloane, Kinsley), Danielle & Matthew (Ephraim, Isaiah, Malachi), Nicolas & Michelle, Brayden, Kierra, Kaitlyn, Serena, Jaxon, Moriah
Carol & Paul Laman - Hadassah, Josiah & Grace (Andrew), Shifrah
Mel & Monica Koopman – Jared & Leasa (Kaison), Wyatt, Zoe
Mark & Linda Koopman – Alex & Hannah, Carsten & Nadia, Savannah
Attie is survived by her sister, Anne Koomans, and in-laws: Ge Koopman, Grace Koopman, Marg & Hielke Zuidema, Grace & John Pennings.
She was predeceased by her parents, John & Siemkje Roffel and her in-laws, Jacobus & Geertruida Koopman, as well as brothers and in-laws: John & Mabel Roffel, Harry & Diane Roffel, Harry Koomans, Pearl & George Greevink, John Koopman, Tom Koopman, Wiecher & Jannie Koopman, and Trudy & George Brink.
Visitation will be at the Shawn Jackson Funeral Home on Sunday, January 29, 2023 from 7-8:30 p.m. and at the church 30 minutes prior to the service. The funeral service will be held Monday, January 30, 2023 at 10:30 a.m. at the Free Reformed Church of St. Thomas. Interment will follow at the Elmdale Cemetery.
Memorial contributions may be made to Word & Deed Ministries.
To send flowers to the family or plant a tree in memory of Attie Koopman, please visit Tribute Store
Share Your Memory of
Attie